Is a serviced apartment right for you or your family?
Life in our serviced apartments has many advantages!
Enjoy tasty home cooked meals delivered to your door
Join Waihi Lodge residents for activities and happy hour
Chat to the housekeeper on their visit to deliver fresh towels or clean your apartment
Enjoy the activities in the Function Centre
What care is available?
Emergency Call bell system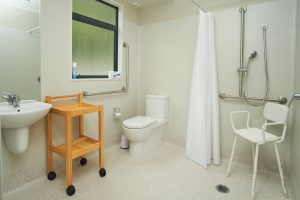 Each apartment features call bell points (one beside the bed, and one in the bathroom). All are monitored between the hours of 8.30am and 2.30pm Monday to Friday by our team of staff. Outside these hours, residents are required to contact their own provider (St John personal alarm for example) for assistance.
Caregiving Assistance
Help is always close by. At any time you can choose to receive assistance from our wonderful team of caregivers, who are supported by our Registered Nurses.Regular activities are scheduled each day.
Service Apartment Costs
For the latest complete costs please contact the Manager.
All residents of the Seniorcare Serviced apartment receive the following 'Assisted Living' package that includes:
Rates, including water
Building insurance (excluding contents insurance)
Smoke detectors & sprinkler system
Building repairs and maintenance
Window cleaning (external)
Housekeeping of apartment x2 weekly- Mondays, Thursdays
All electricity and heating of the apartment
Bed linen supplied (sheets/pillowcases- single bed).
Weekly laundry change (sheets/pillowcases)
Weekly personal laundry service
Facecloth, hand towel and bath towel Mondays, Wednesdays & Fridays
A cooked midday meal
In addition to the service package, the following options are available
Breakfast to room - $35 per week
Evening tea meal in dining room  -$42 per week
Your bed made daily  - $24 per week
Personal laundry service (additional 2x per week) - $20 per week
Showering supervision - $15 per event
Administering medications - $4 per event
Activities, including happy hour, braingym, exercises  - $10 per day
Serviced Apartment Frequently Asked Questions
Got a question about our Serviced Apartments? Check out the Serviced Apartments tab on our FAQs page, or alternatively drop us a line.